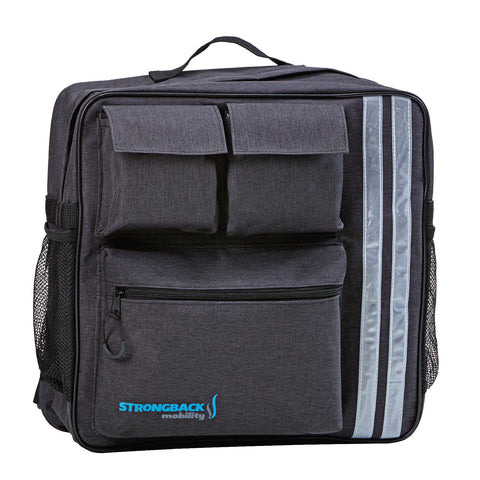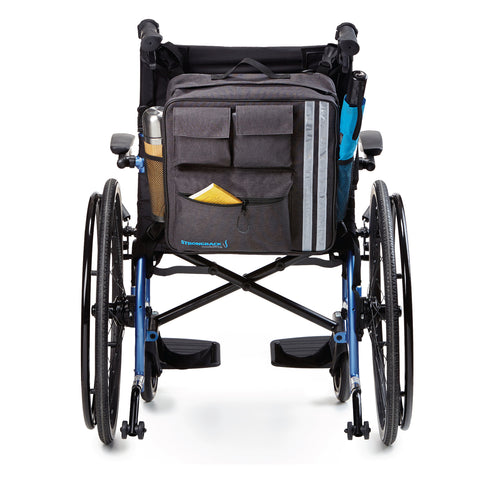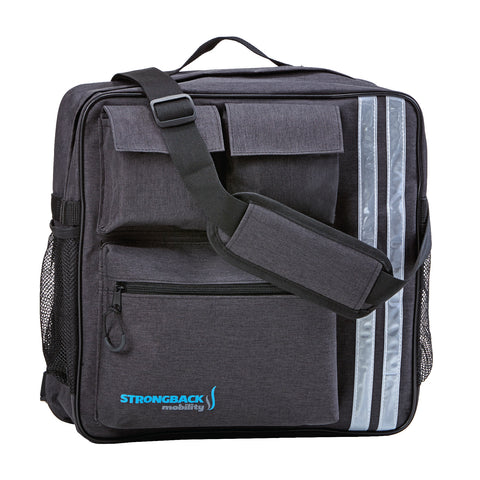 STRONGBACK Mobility Wheelchair Backpack | Convenient Storage Solution
The STRONGBACK Mobility Wheelchair Backpack is a versatile and practical accessory designed to enhance your mobility experience. This spacious and durable backpack provides a convenient storage solution for your personal belongings, allowing you to keep essentials within easy reach while on the move. Whether you're running errands, exploring new places, or simply going about your daily activities, this backpack offers functionality and style. Invest in the STRONGBACK Mobility Wheelchair Backpack and enjoy the convenience of hands-free storage.
Key Features:
Ample Storage Space: The generous storage capacity of this backpack offers plenty of room to carry your belongings, including personal items, gadgets, water bottles, and more.
Durable and Reliable: Crafted from high-quality materials, this backpack is built to withstand daily use, providing long-lasting durability and protection for your belongings.
Versatile Design: The backpack features multiple compartments and pockets, allowing for organized storage and easy access to your items, keeping everything neatly in place.
Comfortable and Secure: Equipped with adjustable straps and a secure buckle closure, this backpack ensures a comfortable and secure fit on your wheelchair, providing stability even during movement.
Stylish and Practical: With its sleek and modern design, this backpack seamlessly combines style and functionality, complementing your mobility device while offering convenient storage options.
Experience the convenience of hands-free storage with the STRONGBACK Mobility Wheelchair Backpack. Stay organized and have your essentials within reach wherever your day takes you.
Specifications:
Bag Size: 14.17 x 15.1 x 14.17 inches
Weight Empty: 1.65 lbs
Adjustable straps secure the bag to the wheelchair for stability across various seat sizes. Removable shoulder strap included.
Multiple compartments for easy organization, including a top-accessible main compartment, front pocket for small items, velcro pockets, and side mesh pockets. Inside pockets for laptop or iPad.
Back zipper pocket for secure storage of valuables or catheter bags.
Convenient zippers with finger loops and a flap to prevent rain.
Hangs on the back of the wheelchair, freeing hands for easy transportation.
Elastic strip for secure placement on roller suitcases.

Features reflective strips for enhanced visibility at night.
Shipping

Shipping fees do apply for this product and are calculated at checkout. See our updated

 

shipping policy

 

for details.
Truly Amazing
I got my Strongback Mobility wheelchair backpack today. I struggle to find enough words to describe how great this backpack is. [But will try.]
First, it fits my Strongback Mobility wheelchair to a "T."
Second, if I don't want to put the bag on the back of my wheelchair, it comes with a seriously handsome cushioned shoulder strap, to simply sling it as a cross body bag. (I prefer this mostly, bcz it allows me instant access to my things.) The fabric is what impresses me the most! It's not that icky, itchy, dried up, crunchy "whatever" garbage most bags are made of. Rather, I noticed this pack has a special delightful fabric & weave, super nice to touch. It also looks very easy to clean. I found there are endless pockets, crevices, storage "rooms", zippered "little compartments" inside, just like a house! Skinny, sleek overall design. Phenomenal organizer. I noticed there is certainly tons & tons of room. I literally could put my entire day in this bag - snacks, writing supplies, wallet, make up, meds, hand towels, hygeine stuff, etc. Everything can go in the bag, Probably, too, I can easily fit a change of clothes, and socks - for travel - or all day, on the go. Exactly what I wanted. Lastly, I found this bag has the sleekest, coolest overall design. It is not some bulging, ghastly monstrosity in my lap when I am wheeling. Rather, I found it to be elegant & sophisticated.
In my view, it's quite modern & space-age looking. It made me feel so special. This is such a great gift to myself. Also, I noticed it's not made flimsy in structure. I found it so incredibly secure in every way possible. It seems to me that it has got some real substance to it, so that what I put inside doesn't poke out, fall out, or get lost, like constantly happens with those cheap, trashy bags. Indeed, I am quite impressed with this backpack. I have a feeling it will last for many, many years. If not forever! I love you, Strongback Mobility! You truly have my back & I am so eternally grateful to you!
Hi, thank you so much for your wonderful review! We are very happy to hear that you are enjoying your new Strongback Mobility backpack. We here at Strongback Mobility value and appreciate our customers, and it really makes our day to hear such positive feedback!
Warm regards and be good to your back,
Leta
__________
Leta Krieger
Manager, U.S. Customer Success Team