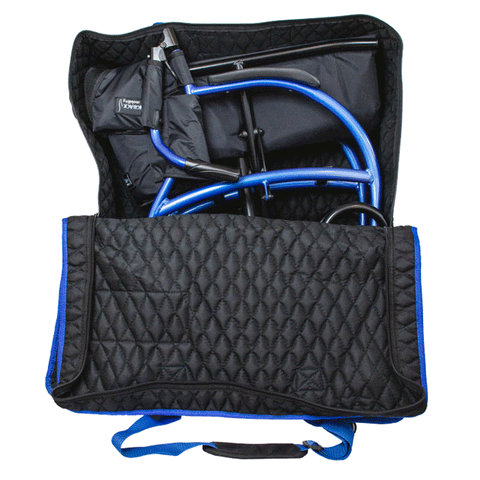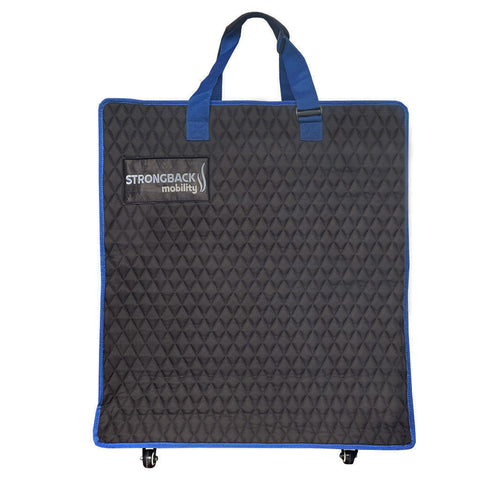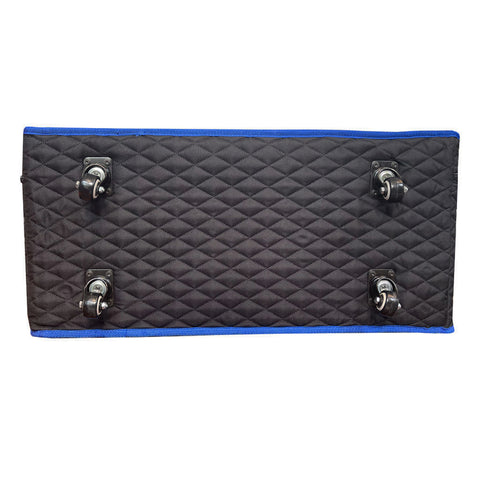 STRONGBACK Mobility Wheelchair and Transport Chair Travel Storage Bag - Large | Convenient Travel Solution
The STRONGBACK Mobility Wheelchair and Transport Chair Travel Storage Bag is the perfect companion for individuals on the go. This spacious and durable travel bag offers a convenient solution for storing and transporting your wheelchair or transport chair. Whether you're embarking on a road trip, traveling by plane, or simply need a reliable storage option, this travel bag provides the protection and convenience you need. 


Key Features:

Spacious Design: The large size of this travel storage bag provides ample space to accommodate most standard-sized wheelchairs and transport chairs, allowing for easy packing and transportation.

Durable and Protective

: Constructed from high-quality materials, this travel bag offers durability and protection, safeguarding your wheelchair or transport chair from scratches, dirt, and damage during travel.

Convenient Handles and Straps: The bag features sturdy handles and adjustable straps for comfortable carrying and easy maneuverability, ensuring hassle-free transport.

Zipper Closure: The secure zipper closure keeps your wheelchair or transport chair safely stored within the bag, preventing any accidental openings and providing added peace of mind.

Travel-Friendly: Designed with travel in mind, this storage bag is lightweight and foldable, making it easy to pack and store when not in use, while also complying with most airline luggage requirements.

 Take the stress out of traveling with your wheelchair or transport chair by utilizing the STRONGBACK Mobility Wheelchair and Transport Chair Travel Storage Bag. Enjoy the convenience and peace of mind it brings as you embark on your next adventure.
Specifications:

Suitable for STRONGBACK 22S and 24 models including +AB and 24 Flip
Large bag dimensions: 31 x 12 x 31 inches (Please measure your transport device before purchase to ensure your product will fit properly.) 

Easy to carry with reinforced handles and easy to roll with 4 castor wheels on the hard base bottom 

Constructed with a black quilted and padded nylon material which is lightweight, and water-resistant. 

Zipper closure.

Easy to clean: bag can be cleaned with a damp cloth and mild soap if necessary 

Shipping is FREE! anywhere in the contiguous USA. For Hawaii, Alaska, Canada, and all other areas, please call or e-mail for a shipping cost quote.
UPC: 

7640176290190
Great quality, but can't fold down
This transport bag is very well made, really good quality. It's a great idea, but I returned it for one reason. I wanted to take it to the airport, carry it while I push my husband to the gate, then put the wheelchair into the bag when it is gate checked to protect it. The problem with the design of this bag is that there's no way to carry it in a folded position. The handles are on the top of the bag and it can only be carried in the long position. The wheels are a great addition and if you were pulling it with the wheelchair inside the bag it would work just fine. It's when it's empty that it's so awkward. I reached out to the company with the suggestion of modifying this one quirk and I must say that they have EXCELLENT customer service. They are quick to respond and you can actually speak with a real person.
WHEELCHAIR COMMENT
HELLO. WE ARE HAPPY WITHE THE CHAIR PURCHASED FOR OUR SON. THE STORAGE BAG WAS OF GREAT HELP AT THE MOMENT OF TRAVELING. THE ONLY THING WE WOULD LIKE TO SUGGEST IS TO OFFER THE OPTION OF A SAFETY BELT FOR THE CHAIR, IT IS ALWAYS IMPORTANT! THANK YOU.