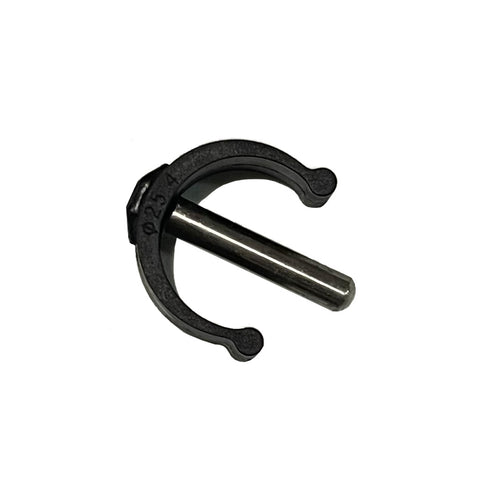 STRONGBACK Mobility Retaining Clip | Stability and Security
Ensure maximum stability and safety for your wheelchair's leg rests with our innovative Wheelchair Retaining Clip. Designed to securely hold the leg rests in place on the frame of the wheelchair, this essential accessory provides peace of mind during every mobility journey.

Key Features:
Secure Leg Rest Attachment: Our retaining clip offers a reliable solution to keep the leg rests firmly attached to the wheelchair frame. Say goodbye to worries about accidental dislodging or movement during use.
Enhanced Stability: Experience improved wheelchair stability with the leg rests securely locked in position. Enjoy smoother rides and enhanced comfort, knowing that your leg rests are safely fastened.
Easy Installation: Our retaining clip is designed for effortless installation, ensuring hassle-free setup on most wheelchair models. Simply attach the clip to the designated area on the frame and lock the leg rests into place.
Durable and Long-lasting: Crafted from high-quality materials, our retaining clip is built to withstand daily use and provide long-lasting performance. It is designed to withstand wear and tear, offering reliability for years to come.
Universal Compatibility: Our clip is designed to fit a wide range of wheelchair models, making it a versatile accessory suitable for various brands and styles. Enjoy the flexibility of using our retaining clip with your preferred wheelchair.
Improved Safety: By securely fastening the leg rests, our retaining clip enhances overall safety while using the wheelchair. It helps prevent accidents or unwanted movement, providing a secure and stable platform for the user.
Shipping

Shipping fees do apply for this product and are calculated at checkout. See our updated

 

shipping policy

 

for details.