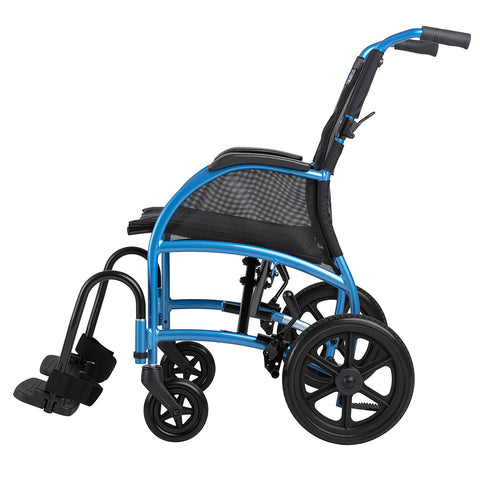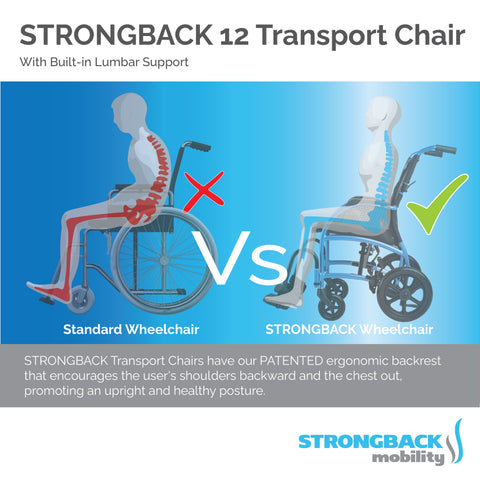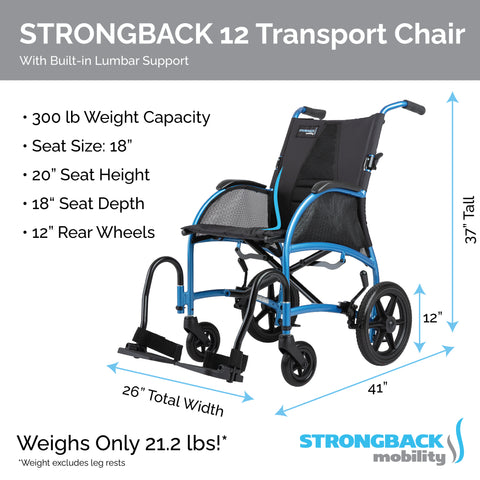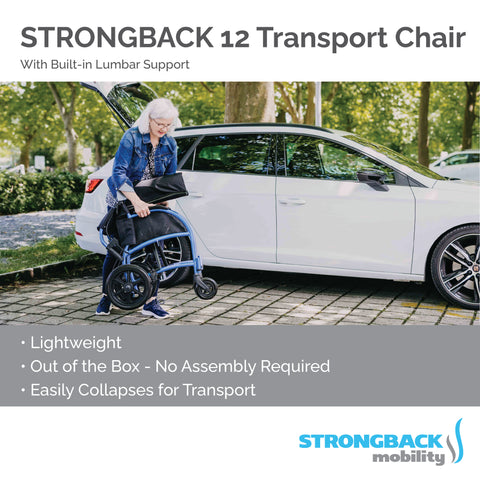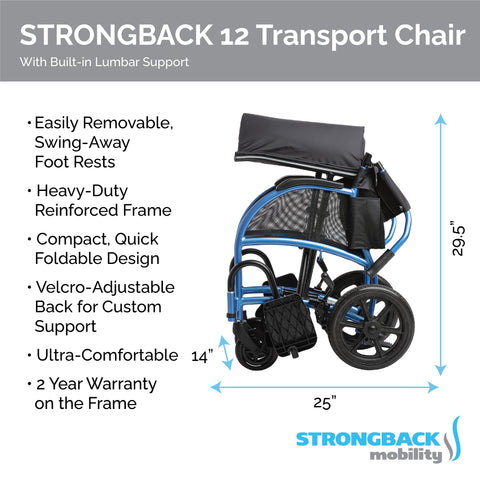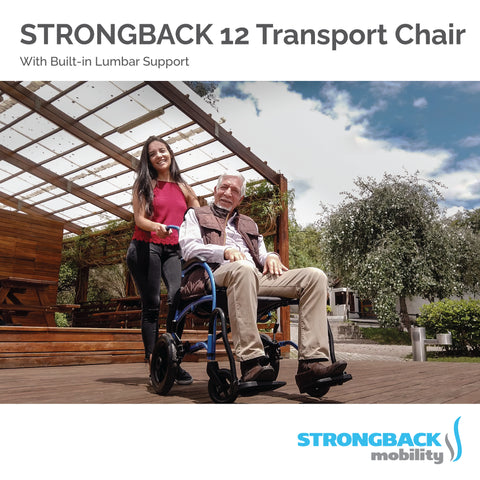 STRONGBACK 12 Transport Wheelchair | Comfortable and Versatile
Experience exceptional comfort and versatility with the STRONGBACK Excursion 12 wheelchair from Strongback Mobility. It's comfortable design and versatile features make it the perfect choice for enhanced mobility.
Key Features:

Comfortable and Versatile Design: The STRONGBACK Excursion 12 wheelchair is designed to provide exceptional comfort and versatility, ensuring optimal mobility and support for users.

Ergonomic Features

:

With its ergonomic design, this wheelchair offers superior comfort and helps improve posture, reducing strain and promoting better overall well-being.
Versatile Usage: The Excursion 12 wheelchair is designed for versatile usage, making it suitable for various environments, both indoors and outdoors.
Easy Maneuverability: With its user-friendly design, this wheelchair allows for smooth and effortless maneuvering, providing freedom and independence.
Durable and Reliable: Strongback Mobility is known for its durable and reliable products. The STRONGBACK Excursion 12 wheelchair is built to last, ensuring long-term satisfaction.
Features:
Patented STRONGBACK ergonomics with easily adjustable posture support in the backrest
Compact foldable design
Ultra-lightweight
Swing-away detachable footrests
Ergonomic comfort-grip handles
Comfortable desktop-length armrests
Weight capacity: 300 lbs.
Shipping is FREE! anywhere in the contiguous USA. For Hawaii, Alaska, Canada, and all other areas, please call or e-mail for a shipping cost quote


Bonus Buy!
Specifications:
STRONGBACK 12, 18" seat
12 inch rear wheels for in and outdoor use
Size (unfolded): 41 x 26 x 37 inches
Size (folded): 25 x 14 x 29.5 inches
Total Weight: 21.2 lbs 

(excluding leg rests)
Downloads:
Light weight and comfortable
Im very happy with this chair. Its very comfortable and Im able to sit in the chair for hours without being miserable. It is extremely light and easy to load and unload into the vehicle. I am a 48 year old woman, 5 foot 11. The chair is so light my 70-year-old mother is able to load and unload easily. Im not even going to mention my husband because obviously its very easy for him to load as well.
Go out and enjoy the day!
This is the perfect answer for those dr buildings where everything is just too far with a walker. Our 95+ Mother gets along with a walker indoors and out to the car, but wouldnt it be nice to go to a park and enjoy the outdoors on a nice day? And not be completely worn out by just getting there!! Im looking forward to some activities that dont involve dr appointments and so is she! Oh! And it was out of the box and set up in under a minute! Every part is easy to set up and fold down. Just great. Get handbrakes for control.
Nice chair!
I bought the smallest size since I'm pretty small , 5'3" and 120 lbs. It's very easy to use, super comfortable for sitting in for long stretches and turns on a dime. I take foot rests off in house for better obstacle clearance and space considerations. Nice little manual chair light enough for me to fold up and pack into car.
Love this chair
Love this chair! We purchased the 12" back wheel model with the 16" seat. We needed a chair for our 11 year old daughter with mobility issues that we could easily take anywhere for when she tires. This chair is perfect for our needs. It fold easily, is very sturdy yet lightweight, turns very easily and comfortable to sit in. It is so easy to push and maneuver that our daughter likes to push it herself when she walks because it actually stabilizes her better and she doesn't tire as easy. She finds it very comfortable to sit in as well when she needs a break. She also likes the look of it, a bit sporty. I believe it is worth the price.
Fabulous lightweight wheelchair
The Strongback 24 is superior to traditionally designed wheelchairs my family has used. In the past. Its ergonomic design offers many benefits such as: easy to use foot rests with a lift and swing motion rather than clumsy clamps; brake controls where the user can easily find them at the same level as the bottom seat cushion rather than lower down; an ergonomic back rest allowing the user to sit straighter and more comfortably; cushioned handles for pushing; an increased ability to maneuver; and last but not least a superior light weight which allows for an easier self propel as well as for pushing. I am a small woman of 110 pounds. Switching to this wheelchair has made me able to take my 91 year old father out and about without great difficulty. And best of all, my father finds the chair easy to propel, thus providing some independence given that he is wheelchair bound. Thank you!